Per Sax Møller lives with silver and its essence. He has long since forgotten all the trials and tribulations of the craft, because he masters the craft and has gotten past the technical difficulties, so all the creative energy is now gathered in the expression and visions of the artist.
The sculptor Astrid Noack did not want to express "more" in her sculpture than what she with great humanism stood for. That means, she was not
pretentious. That is one of the hardest things to achieve. This strength is expressed in Per Sax Møller's work as well.
I feel it is a privilege to have worked with Per on  ecclesiastical assignments among other things. And if I was naturally fond of silver earlier, then our cooperation has made me understand the wondrous reflection of silver.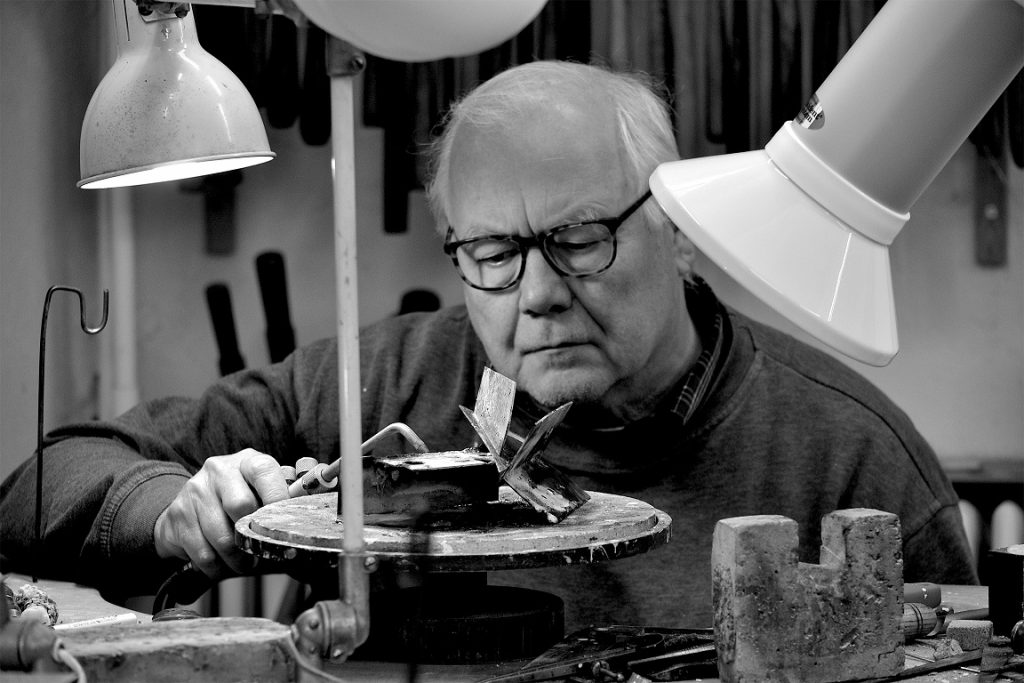 From 1968 – 1972 I trained as a silversmith and have since then, with a few breaks, made my living making silver hollowware, and I have been especially interested in the sculptural expression.
The experiences I have acquired over the years in my silver work, I have in recent years applied to pure sculptural objects, where it is still a matter of working with hollowware, but in many joined parts.
The starting point is a series of sketches where the idea for the sculpture is crafted and later translated into a three-dimensional form. The sculptures are made with a silversmithing technique where plates in 1.5 to 2 mm brass, tombak or bronze are bent and joined with silver soldering.
Sculptures are exhibited and can be purchased at:
SECHER FINE ART & DESIGN
Bredgade 25 A
1260 Copenhagen K
Denmark
Certified silversmith with bronze medal by Hofjuvelér A. Michelsen 1972
Guldsmedehøjskolen 1973-75
Own workshop since 1976
Co-founder of "Danish Silversmiths" 1976
Workshop at Herning Artmuseum, 1978
Workshop at "Bornholms Frie Værksteder", 1979
Chairman of "Danish Silversmiths" 1999-2002
Member of "The Silver Council" at Koldinghus 1999-2002
Curator and exhibition architect for the show "Danish Silver 2000", Koldinghus 2000
Member of the judging committee at the competition "Sølv på kanten" for "Kjøbenhavns Guldsmedelaug", Design Museum Denmark, Copenhagen 2000
Idea and organization of the exhibition "Bagateller", Galerie Metal 2001
Co-curator of the exhibition "Modernes Dänisches Silber 1900-2000", Bröhan-Museum, Berlin 2001
Curator and exhibition architect for Danish Silversmiths' 25-year anniversary exhibition "925s", Design Museum Denmark, Copenhagen 2001
Idea proposal and editing of the catalog "Danish Silver 2000" and " Modernes Dänisches Silber 1900-2000"
Special exhibition "Lys over Lolland", Sakskøbing Sukkerfabrik
The Biennale for Craft and Design 2015, Carlsbergbyen
"The time is always now", Museumsbygningen Copenhagen
"The time is now" Museumsbygningen Copenhagen 
Nordenfjeldske Kunstindustrimuseum, Trondheim
"Objects of Light", Design Museum Denmark, Copenhagen
Danish Silversmiths, Museet på Koldinghus
Silversmith of the year, Museet på Koldinghus (separat)
Biennalen 2007, Trapholt, Kolding
"Tid til te", Kronborg Castle (2005) and Silkeborg Bad (2006)
"Silver and Enamel", Guldsmed Boye, Århus (separat)
"New works", Danish Silversmiths with guests, Museet på Koldinghus
"Bagateller 2", Galerie Metal, Copenhagen
"Bagateller", Galerie Metal
Modernes Dänisches Silber 1900-2000", Bröhan-Museum, Berlin
"925s", Danish Silversmiths' 25th anniversary exhibition, Design Museum Denmark, Copenhagen
"Danish Silver 2000", Museet på Koldinghus
"Sølv skal ikke pudses", Design Museum Denmark, Copenhagen
"Nutidigt Dansk Sølv", Danish Silversmiths, Taideteollisuusmuseossa, Helsinki, Finland
"Nutidig Dansk Sølv", Brøndsalen, Frederiksberg
Hässelby Slot, Stockholm
"Silver hollowware", Galerie Gammel Strand, Copenhagen
City Art Centre, Edinburgh
11. Silber Triennale, Hanau
Center for Dansk Kunsthåndværk, Herning
Spring exhibition, Charlottenborg
Schloss Kiel
De Zonnehof, Amersfort
Sønderjyllands Kunstmuseum, Tønder
Marienlyst Slot, Helsingør
Europäische Silber Triennale, Hanau
Röhsska Kunstslöjdmuseet, Göteborg
Vesterlandske Kunstindustrimuseum, Bergen
Sønderjyllands Kunstmuseum, Tønder
Design Museum Denmark, Copenhagen
Nationalmuseum, Stockholm
Nordenfjeldske Kunstindustrimuseum
Oslo Kunstindustrimuseum
Danish Arts Foundation working grant, 1979, 1997, 2000, 2002 and 2016
Karl Gustav Hansen Award 2008
Ole Haslunds Kunstnerfonds honorary grant 2017
Oslo Kunstindustrimuseum
Museet på Koldinghus
Design Museum Denmark, Copenhagen
"Smykkeskrinet" Den Gamle By, Aarhus
Ny Carlsbergfondet
Danish Arts Foundation
Private collections in Denmark and abroad